This continues my earlier piece on business strategy, now there are three main business strategies exist. A cost strategy such as competing on having lower prices than your competitors examples of that could include Aldi, Bunnings and Office works. Whereas, a differentiated product or service strategy means identifying a product or service that you could do better than others, while the final option is the small target or focus on a niche strategy. Understanding these strategies is critical to writing a good strategic business plan.
We are going to look at a differentiated service strategy used by PayPal, which is the same company that gave us Peter Thiel (he's on my book list) and the mercurial Elon Musk. Particularly, as the Company managed to disrupt an established the established banking industry, which has huge barriers to entry as a number of financial tech companies have found. Which include regulatory approval, large capital reserves and confidence building measures with your prospective client base.
After all Banking is ancient and their business models haven't changed in hundreds of years. With that type of legacy, they are incredibly difficult to displace, but PayPal did just that as shown in the below chart.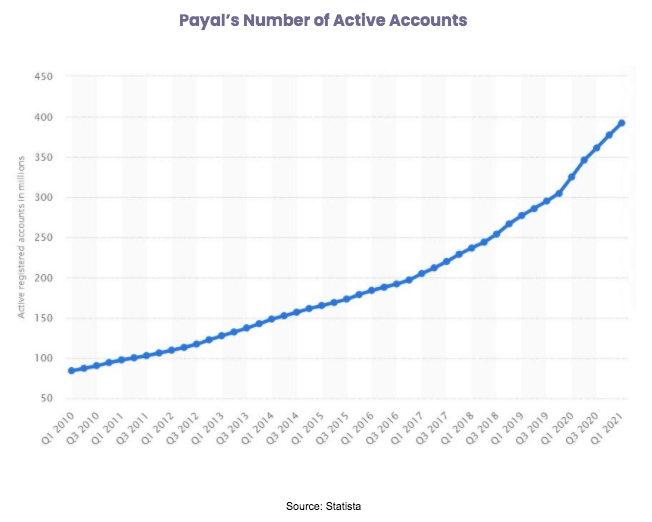 Here's how they did it:
PayPal spends less money on technology than a medium sized bank does. Yet its technology platform is far superior.
Consumers trust PayPal as much if not more than they trust their bank. Even though PayPal has been around for a fraction of the time.
When a customer buys with their PayPal account, the bank has no clue what the customer actually bought. The transaction appears on the bank statement as merely 'PayPal'. This gives PayPal all the power when it comes to data mining.
PayPal is quicker to market with just about any kind of payment innovation.
PayPal refuses to partner directly with banks – instead opting to partner with retailers directly.
Very quickly PayPal inserted itself within the payment cycle, becoming an alternative to using a debit or credit card. Indeed from an online security perspective it is preferred due to the fact that it provides an additional layer of protection!
Utterly amazing – let's look at how PayPal's business strategy disrupted the business world.
What can we learn from PayPal?
There are two pillars of success to PayPal's story. The first channels Napoleon, who once said "give me lucky generals." In this case PayPal got a lucky break when they became the preferred payment provider for eBay transactions.
This provided PayPal with sufficient capital to purchase eBay for $1.5bn (USD), and they then capitalised on the purchase by inking several deals with other online retailers to grow their market share.
Here's where the second pillar comes in – partnerships.
Banks as conservative institutions have always been wary about forming direct partnerships with retailers usually relying upon partners (Visa / Mastercard / AMEX) to do so. PayPal as a market disruptor was open to doing so.
Which meant that the traditional structure involving credit and debit cards as the heart of the financial payment system could be circumvented! However, PayPal still found a way to incorporate the traditional intermediaries, by establishing a partnership with MasterCard thereby leaving the banks out in the cold.
Today, PayPal commands an amazing 54% share of the payment processing market. Almost all of that growth has come from their direct relationships with merchants large and small. PayPal are certainly an excellent example of a niche strategy.